Resideo – Real Estate Webflow Website Template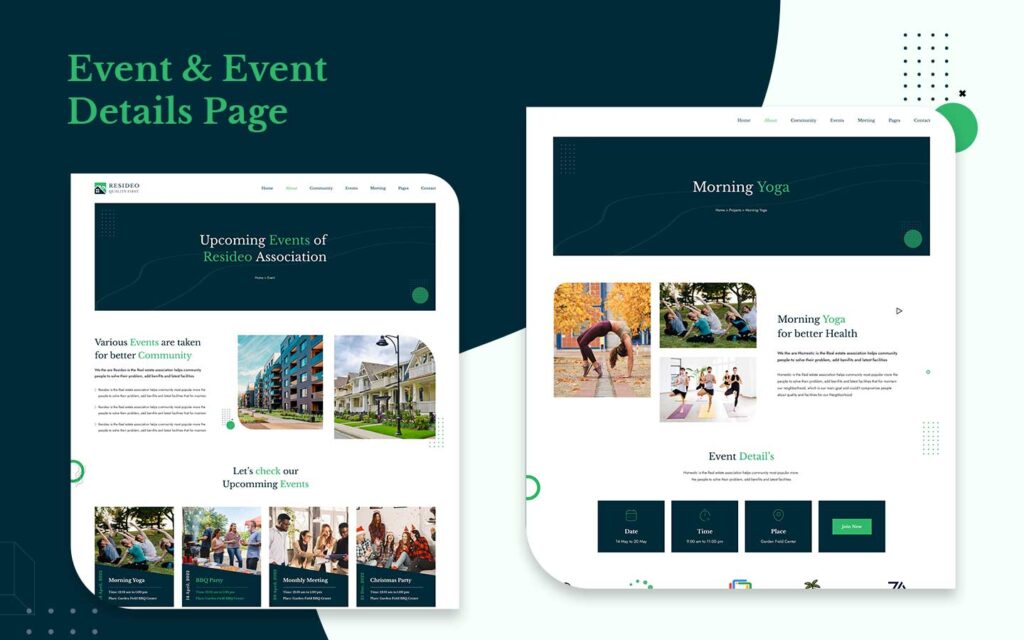 If you're looking for an easy-to-use yet powerful website template in well-liked Webflow CMS, the Resideo Home Owners Association Webflow Template is perfect. This Webflow HTML website template is sleek, modern, and suitable for any Homeowners Association(HOA) or real estate website. Plus, this clean and minimal Webflow website template responsive layout design ensures that your site will look great on any device.
Resideo Webflow HTML website template comes with a total of 22 pages. These pages include 15 static pages, 5 CMS pages, and 2 utility pages. This Webflow HTML website template contains static pages like the Home page, about page, Event page, Contact page, etc. The CMS template pages include pre-built pages for your HOA website, including an Authors Template, Team Member template, Blog Posts template, and Projects template.
The Event details page contains Upcoming Events of the Home Owners Association and the Gallery pages showcase images of past meetings. The Team pages introduce the team members, and the Project pages give details of any projects. Finally, the Registration and login pages allow users to sign up or login for upcoming events.
These pages provide a wealth of information for users and are essential for keeping the domestic website organized.
Templates Features
The Resideo Webflow template is built with Webflow HTML and boasts a number of features that make it an ideal choice for those looking to create a website.

Awesome and Creative Design
The awesome and creative design of this template makes it ideal for any domestic or home association.
Optimized for fast loading speed
Fast loading speed is ensured using Resideo, a business-oriented template that has been optimized for speed. This template is simple to use and loads rapidly.
CMS (Content Management System)
Resideo is a CMS-ready website template, allowing you to easily create and manage a website for your Association.
Great Customizability
You can change almost anything in this template with just a few clicks in the Webflow Editor. The website will be completely under your control from the color scheme to the content.
Search Engine Optimization
Resideo is a fully SEO-optimized template that helps you to optimize your website for search engines. So that your website can be easily found by potential customers.
So, this Homeowners Association template has all the features and pages you'll need to launch your homeowner's associations or Real Estate website right now.

Video Presentation

Page Overview
Static Pages:
Home
About us
Events
Project
Blog
Contact
Team
Login
Register
Gallery
Community
Meeting
Style Guide
License
Changelog

CMS Pages:
Authors Template
Team Member Template
Blog Posts Template
Events Template
Projects Template

Utility Pages:
Password
404