Funder – Agency Website Template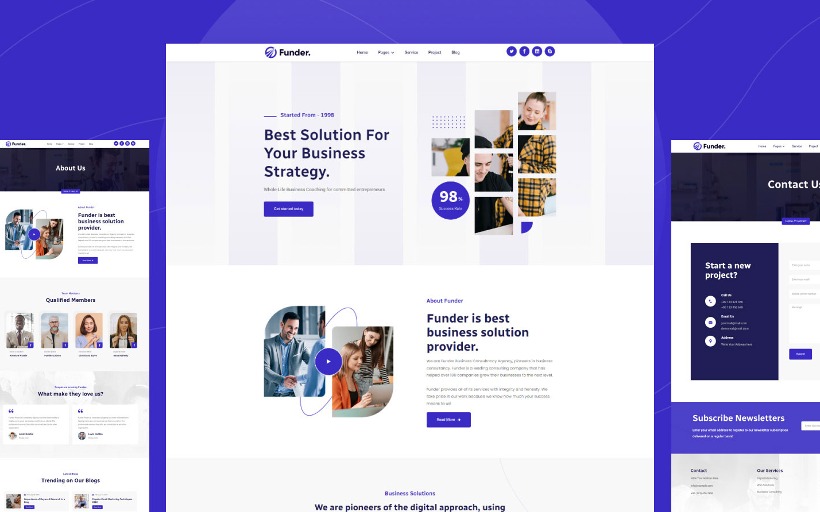 If you're looking for a high-quality Webflow business website template to strengthen your business's online presence, look no further than the Funder Webflow template. This reliable and well-designed site can be used by all types of companies – from startups who need something simple with just enough detail or agency professionals seeking an impressively designed platform on which they could show off their work in style! Funder gets you covered.
Funder offers 16 web pages in total including 9 static pages, 5 CMS collection pages, 2 utility pages, etc. The necessary web pages include About Page, Service Page, Project Page, Blog Page, Style Guide Page, Contact Page, etc.
1. Fast Loading Speed
Because websites with slow loading issues are more likely to leave a negative impression on visitors, it's critical to make sure that your site is easy to navigate. To give your visitors the best possible experience, we've optimized the elements to load your business website as quickly as possible.
2. SEO Friendliness
The Funder Webflow website template is SEO-friendly, making it simple to optimize for Google's algorithm. This fantastic tool boosts your site's conversion rate, resulting in more visitors.
3. Easy Customization
You have total control over the components, styles, and interactions with this exclusive Business web template. Without touching a code, you can customize every aspect of the template, including colors, container sizes, spacing, and other aspects, to match your project and make it seem unique for your business.
4. Fully Responsive Layout

This template is entirely responsive, meaning it will look great on any screen size or mobile device. As a result, visitors using a variety of devices will find your website to be easy to navigate.
5. CMS Ready
With the power of Webflow CMS, you will find this template effortless to add and modify content.
6. Regular Updates
In a nutshell, The Funder – Business Website Webflow Template is an up-to-date, modern, and powerful website design that you can use for your business. You will receive regular updates with new features or improvements on this template in the future too.