Gamic – Game Website Template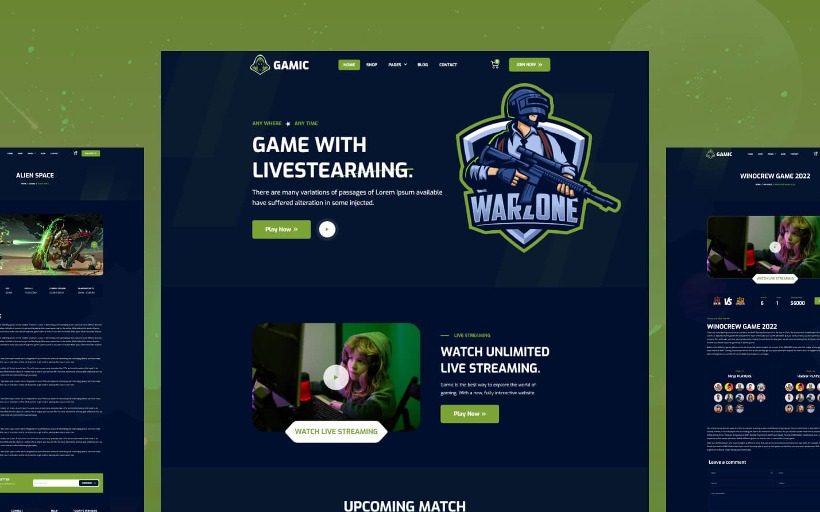 For gaming and esports sites, the Gamic WebFlow template would be an ideal choice. It embodies an impactful and eye-catching design that will spark anyone's interest. It's enriched with superb page layouts and components that can bring an excellent outcome.
The Gamic WebFlow comprises 24 total pages including 15 static pages, 7 CMS collection pages, 2 utility collection pages, and so on. The essential web pages include Home Page, Match Page, Team Page, Team Details Page, Games Page, Game Details Page, FAQ page, and many more.
Designed for a wide range of Gaming Website Needs
Gamic boasts a sleek and stylish design that is perfect for promoting your video game, game studio, or industry event. With simple scrolling animations as well as all the components required to create pages, it makes creating content convenient and fast.
Optimized for fast loading speed
Since the websites with slow loading issues are most likely to not make a good impression on the site visitors, it's really vital to ensure that your website is smooth and fast to navigate. To provide your visitors with the greatest experience, we have optimized the elements in the best possible way so that your gaming website loads faster.
SEO Friendly
The Gamic Webflow website template is designed with SEO in mind, making them easy to optimize for Google's algorithm. This excellent feature leads to an improved conversion rate to your site bringing in more traffic.
Great Customizability
With the Gamic Gaming web template, you can have complete control over the components, styles, and interactions. Modify every component of the template, including colors, container sizes, spacing, and other elements, to fit your project and make it appear unique for your game or studio without touching a line of code.
Essential Utility Pages

This exclusive gaming WebFlow template contains a variety of utility pages that cover every possible scenario. Here you will find the login/registration page, 404 Page, License Page, Changelog Page, Contact page, etc.
Fully Responsive and Adaptive Layout
This template is a fully responsive one that will display perfectly on any size or mobile device. Therefore, visitors irrespective of devices will find your website user-friendly to browse without a hitch.
CMS Ready
Using the power of Webflow, you can add and edit content with ease. Gamic Template supports collections like Games, Blogs press events teams member login pages – it's all configured!
eCommerce Ready
One of the best parts about this exclusive Webflow theme is that it comes with eCommerce functionalities. The convenient eCommerce features enable visitors to make purchases from your website.
Regular Updates
The Gamic gaming web template is powered by the latest features and functionalities of WebFlow. After installing it, you will also receive updates on a regular basis in the future.