Mesbiz – Multipurpose Business HubSpot Theme
Mesbiz is one of the winners of the HubSpot Themes Challenge 2021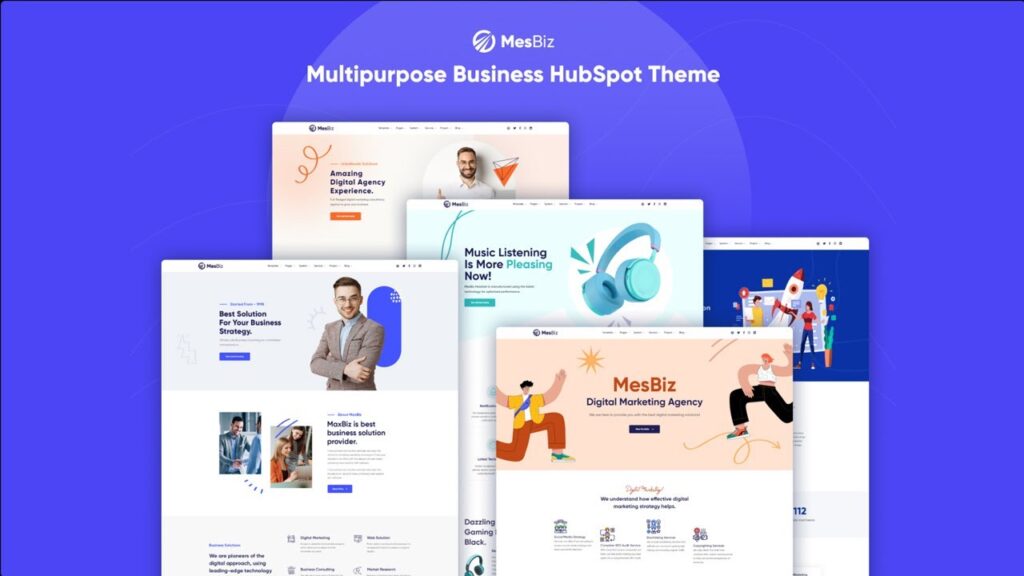 Do you want a user-friendly, adaptable, and feature-rich website theme? Then you may use our Mesbiz – Multipurpose Business HubSpot Theme.
With this award-winning theme, you don't have to spend hours upon hours building a website. In fact, you could have a beautifully designed website in just minutes!
At HasThemes, a team of professional developers creates high-quality code and design. We're continuously working to improve the theme features and performance.
MesBiz HubSpot Theme Features:
5 different categories of Home Page Like: (Business, Digital Agency, Creative Portfolio, Start-ups, Product Landing)
Pre-built Templates & Modules
Compatibility with DND Feature
Customization Options
Multi-Language Ready
Zero Coding Knowledge Required
Fully Responsive
SEO Friendly
Included with MesBiz:
UNLIMITED SUPPORT from our team
UNLIMITED updates for templates and modules
FREE 15-minute consultation prior to purchase
FREE 2 Hours of customization service
30-day REFUND guarantee, once you try it we know you'll love it!
If you want to get the most out of HubSpot CMS while creating a website for your business, the Mesbiz theme is worth checking out!
Pre-built Templates & Modules:
This theme comes packed with a plethora of pre-designed templates and intuitive modules. Not to mention that all the templates are designed by keeping all the modern UI design trends and robust UX in mind. With the help of this theme, you can effortlessly create different types of business websites. Such as corporate, branding agency, consultancy, and many more.
Compatibility with DND Feature:
The best thing about Mesbiz is that it supports HubSpot's most recent drag-and-drop feature. Thus, it is super easy to customize almost all the elements of your website easily using an intuitive drag-and-drop editor.
Customization Options:
On top of that, this theme offers great customizability, allowing you to personalize the look and feel of your website exactly the way you want. From colors to each aspect of typography, texts, images, media files, everything is easily customizable.
Zero Coding Knowledge Required:
Even if this is your first time using a HubSpot theme, you don't need to be tech-savvy because the Mesbiz theme provides you with a powerful admin panel where all the settings are well-organized. That's why it doesn't require you to have any coding knowledge whatsoever.
Fully Responsive:
Nowadays a large number of people use their mobile devices to visit websites. With this in mind, we have made our theme fully responsive, so that it perfectly fits all types of devices and screen sizes.
SEO Friendly:
What is the use of a website if it can't help you rank higher in search engines? Right? Well, this is where Mesbiz comes into play. Since the theme is well-optimized for SEO, it will assist you in getting more organic traffic to your website, which will result in increased revenue and conversions.
About Mesbiz Theme:
• Multipurpose theme
• Easy to use and customize
• Built with Bootstrap 5
• Number of Home Pages: 5
• Number of Templates: 18+
• Number of Modules: 44+
• Intuitive drag-and-drop editor
• Pixel perfect, retina-ready & completely responsive
• SEO friendly: optimized page speed, compressed CSS and JavaScript & lazy load images
• Custom features: multilingual ready, blog post ready, menu options, etc.
• Cross-browser compatible (Chrome, Safari, Edge, Firefox, Opera)
• Complete documentation in English.
This theme is ideal for users who want to:
• Build an awesome business website using HubSpot
• Attract more visitors through their website
• Increase the conversion rate
• Scale up their business
If you have any queries, don't hesitate to contact our support team: https://hasthemes.com/contact-us We'd love to assist you with that.
If you want to get the most out of HubSpot CMS while creating a website for your business, the Mesbiz theme is worth checking out!