Indise – Business HubSpot Theme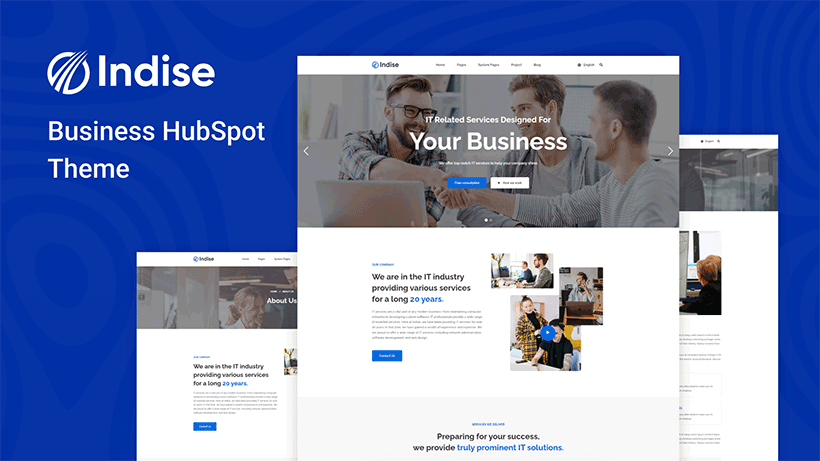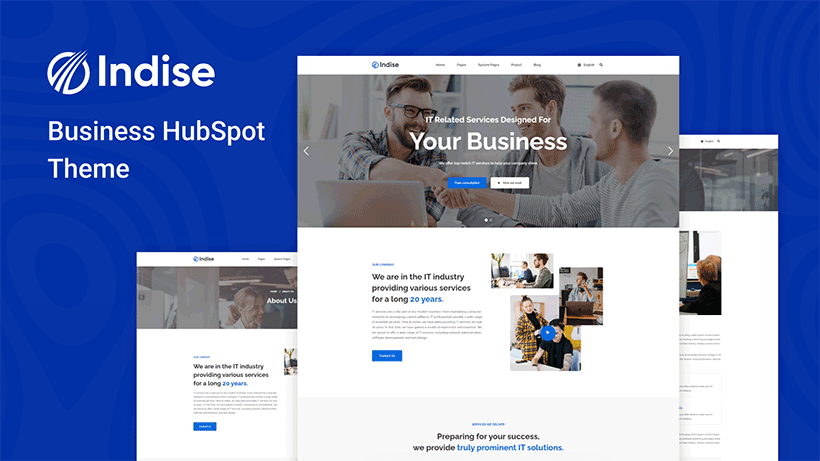 If you are looking for an elegant but modern design HubSpot theme for your IT-related business then Indise should be your preferred choice. It has an attractive and clean design that will help you best to reach new clients as well as lets you showcase your projects and works to future clients.
Indise comes loaded with many essential and useful features like retina-ready images, unlimited colors, custom fonts, and more.
You can build almost any type of business or IT services or IT-related business company website using this remarkably beautiful design HubSpot Theme.
Pre-built Templates & Modules:
It comes with a huge list of prebuilt and premium quality page templates and System templates that will enable to build a unique-looking and user-friendly website for almost any type of business or IT-related business. There are 10+ templates, 24+ modules, and a captivating homepage layout available here.
Intuitive Drag-and-drop:
Indise supports HubSpot's latest drag-and-drop functionality, which makes it super simple for anyone to build or update their website because of its user-friendly drag-and-drop interface.
Customization Options:
Because it has many customization possibilities, this theme is useful when it comes to entirely customize the look and feel of a website. Colors, typographic settings, phrases, photographs, and videos can all be modified.
No Coding Knowledge Required:
It doesn't matter whether you've never used a HubSpot theme before. Because, you can use this fantastic Business HubSpot Theme without knowing how to code. In addition, the admin interface is user-friendly.
Fully Responsive:
Many individuals browse websites using their mobile devices in the modern era. In order to accommodate any device or screen size, we created our theme with complete adaptability in mind.
SEO Friendly:
SEO must be taken into account while building a website. Otherwise, it serves no use to have a website that is not search-engine optimized. To make Indise HubSpot Theme SEO-friendly, the proper procedures were followed when creating it.
About Indise Theme:
• Small Business
• Easy to use and customize
• Number of Home Pages: 1
• Number of Templates: 10+
• Number of Modules: 24+
• Intuitive drag-and-drop editor
• Pixel perfect, retina-ready & completely responsive
• SEO friendly: optimized page speed, compressed CSS and JavaScript & lazy load images
• Custom features: multilingual ready, blog post ready, menu options, etc.
• Cross-browser compatible (Chrome, Safari, Edge, Firefox, Opera)
• Complete documentation in English.
If you have any questions or suggestions, don't hesitate to reach out to our support team: https://hasthemes.com/contact-us
We'd love to assist you with that.
The Business HubSpot theme is worth checking out if you want to get the most out of HubSpot while building a business-related website for your online business and IT-related business.