StoryX – News Website Template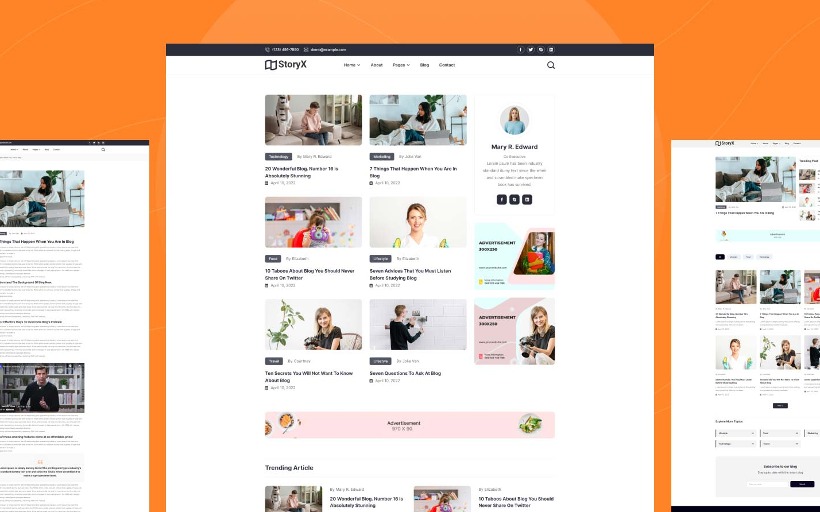 The StoryX Webflow template is a blog template for Webflow.This blogging website Webflow template is a great option for bloggers andcontent creators. It has an eye-catching design that will spark anyone'sinterest, as well as page layouts to help bring out your inner genius!
This amazing blogging web template has a striking andattention-getting design that will pique anyone's interest. It's jam-packedwith fantastic page layouts and components that may help you achieve greatresults.
This blog post Webflow template comprises 20 web pages intotal including 13 static pages, 4 CMS collection pages, 3 utility pages, etc. Theessential web pages include the Sign up Page, Sign In Page, Forgot PasswordPage, Reset Password Page, Change Log Page, Licenses Page, etc.
Designed for a widerange of Blogging Website Needs
The beautiful and sleek design of the StoryX websitetemplate makes it perfect for presenting your blog posts. With all componentsrequired to create pages, content creators will find creating their next greatpiece as quick as pie!
Optimized for fastloading speed
Because websites with slow loading difficulties are morelikely to leave a negative impression on visitors, it's critical to make surethat your site is easy to use. To provide your visitors with the best possibleexperience, we've optimized the parts to load your blogging website as quicklyas possible.
SEO Friendly
The StoryX Webflow CMS blog template is SEO-friendly, makingit simple to optimize for Google's algorithm.
Customizability atits best
You have total control over the components, styles, andinteractions with the StoryX Blog web template. Without touching a word ofcode, customize every aspect of the template, including colors, containersizes, spacing, and other elements, to match your project and make it seemunique for your blog.
Fully Responsive andAdaptive Layout
This exclusive responsive blog website template isresponsive, meaning it will look great on any screen size or mobile device. Asa result, visitors using a variety of devices will find your website to be easyto navigate.
Regular Updates
The StoryX Blog website template is powered by the latestfeatures and functionalities of Webflow. After installing it, you will alsoreceive updates on a regular basis in the future.