Wokiee – Multipurpose React eCommerce Template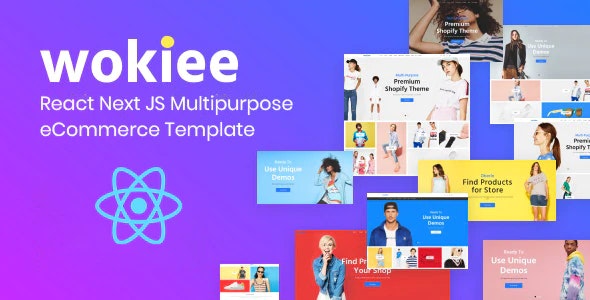 The Wokiee React ecommerce template is an all-in-one React JS solution for your ecommerce site adorned with tons of demos for all niches in one single template.
No matter what your niche is, ensuring efficiency and maximum user-friendliness is indispensable to attain success in online business. The more your web store is well-equipped and easily operable, the more profit you can expect by gaining customers' attention. When it comes to website creation, you can ensure great productivity by deploying the amazing multipurpose React ecommerce Next JS-based web template called Wookie. This stunning premium web design tool will be a perfect solution for your present or future webshop.
With Wokiee – Multipurpose React eCommerce Template, you can kick things off effortlessly, thanks to the React Next JS framework. This comprehensive React JS ecommerce template comprises plenty of home variations of different niches. The wide variety of layouts and styles enable you to create different structures and therefore satisfy any specific requirements.
You can showcase your products to the visitors in a fascinating way. This React ecommerce template contains heaps of components that will get you moving in the right direction without breaking a single drop of sweat. Also, your website will perform smoothly on all devices and modern web browsers without a hitch.
Moreover, this modern React Next JS powered ecommerce template is fully loaded with tons of necessary features. Some notable features include Prebuilt 4 Shop Pages, Prebuilt 4 Blog Pages, Grid/Masonry View, Google Font, Clean Code, Speed Optimized, No Console Error, and Well Documentation.
Try this unbeatable and superb multipurpose React ecommerce template to launch a sophisticated and user-friendly react ecommerce template. For your convenience, we will provide you with dedicated customer support after your purchase. Plus, free updates will be available from time to time.
Main Features List:
Build on React Platform (v18.2.0)
Using React NEXT JS Framework
Using React Context API for State management
No jQuery Dependency
Prebuild 20+ Home Layouts
Prebuild 34+ Niches Skins
Prebuild 4 Shop Pages
Prebuild 4 Blog Pages
Grid/Masonry View
Build with React Bootstrap
Made with SASS
Google font include
Fully Responsive Design
W3C Validated Code
Clean Code
Speed Optimized
Cross Browser Support
Well Documented
No console error
Free Updates