Bonx – Gatsby Gaming Template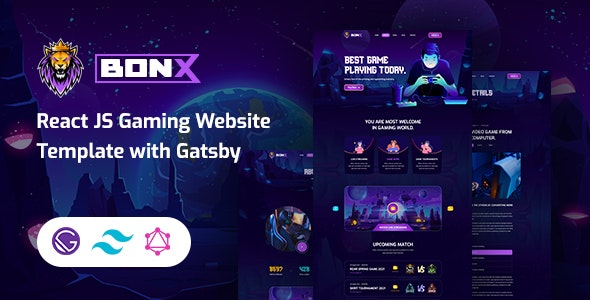 Bonx – Gaming Website Template is a full-blown solution for your gaming website design needs. This terrific React JS Gaming Website Template by Gatsby embodies a sleek and eye-catching design well-suited for promoting your gaming team, gaming event, gaming blog, gaming community & tournament gaming.
This gaming clan website template meets your gaming website design needs perfectly. Take a peek at the live demo to get a sense of what it has to offer!
Bonx – React JS Gaming Website Template is not only impressive in appearance, but also comes with a lot of functionality and features.
GraphQL is significantly faster than other communication APIs because it allows you to narrow down your request query by selecting only the fields that you wish to query.
Gatsby is an open-source framework for constructing static websites and apps that integrates features from React, GraphQL, and Webpack into a single tool. Gatsby converts your site into a directory with a single HTML page and your static assets. This folder is then uploaded to your preferred web hosting service provider.
This unique Gatsby-powered gaming template is well-optimized for Speed and SEO having an impressive score in Lighthouse and GTMetrix.
Bonx – React JS Gaming Website Template Detailed Description
In order to create a professional gaming website, the web design needs to be sleek, elegant, and modern. The Bonx gaming website template allows you to spread the word out for your own unique style. If you are looking for an ideal React JS-powered gaming web template for your desired outcome, Bonx is one of the best solutions to bring your gaming passion online and be in charge of it. You can use it for multiple purposes such as a gaming shop website template, game portal website template, game review website template and so on.
The Bonx React JS gaming web template is a great way to launch your next gaming website project. It comes with 20+ web pages and an eye-catching homepage that will attract visitors greatly at the first place! This impactful gaming website template is powered with the latest web technologies such as Tailwind CSS, React, and Gatsby latest version, etc.
This template is linked to a series of JSON files via the GraphQL data layer and each file has been formatted in such an easy-to-understand way.
With Bonx-gaming tournament website template by Gatsby, create a variety of pages for different purposes as it contains pages like homepage, match page, about page, game page, FAQ page, game players' page, contact page, blog page, etc. One of the specialties of this template is its Match Page with which you can display the ongoing/upcoming matches, game stats, game update section, etc.With the Games page, you can present all the available games with their details. Also, it contains a wide variety of dynamic blog page layouts such as the left sidebar, right-sidebar, grid left sidebar, grid right sidebar, etc.
On top of that, Bonx game portal website template incorporates a fully responsive layout that instantly adjusts to all modern devices, browsers, and screens.
That's not all, you will find tons of other features here such as Creative Design, Icon Font, Clean Markup, Free Updates,and Real Support.
Features of Bonx – React JS Gaming Website Template with Gatsby
Build with latest React (v18.2.0)
Build with latest Gatsby (v4.2.0)
React Hooks used
Blog Complete markdown format supported
No jQuery Dependency
Build with modern tailwindcss
01 Home Variations
Dynamic Blog, Games & Match Page
Disqus Comment
React Modal Video
Fully Responsive Design
Gatsby plugin image (v1.7.0)
Clean Code
Icofont Icons
Speed Optimized
SEO Friendly
Cross Browser Support
Well Documented
No console error